I love to do everything in a way that honours my desire to connect with the right people and help them move forward!"
I do that best by listening, and then sharing from my vast trove of research and INPUT knowledge. I share my enthusiasm and POSITIVITY, and know that there is a purpose and CONNECTEDNESS to all things. My EMPATHY for all beings and situations is felt deeply in my heart. My ability to process complex ideas and situations with my INTELLECTION helps me see the "big picture" solution.

I am great with COMMUNICATION, and my BELIEF means I am committed to my core values. As an ACHIEVER I am highly motivated, and have great SELF ASSURANCE , trusting my instincts and bringing confidence and guidance to others in challenging times. I am an ACTIVATOR. I turn ideas into action, and love making things happen!

NOVEMBER PROMOTION:
Have you ever wished you knew what you were good at? What you are supposed to be doing with your life? What makes you amazing ALREADY?
Take the Clifton Strengths Assessment to discover what makes you uniquely YOU! Are you a Relationship Builder, who loves to connect with the right people? Or are you an Executor, who loves to get things done the "right way"? Or maybe you are a Strategist, and love to think, learn and create! Perhaps you just love helping people move forward as an Influencer.
That's what we're going to find out! After you receive your assessment, we'll book a chat (in person, by phone or on Zoom) and talk about your top 10 Strengths. I'll help you understand how unique they are to YOU, and help show you how they've already been showing up as successes for you. Then, as an added bonus, it's your choice of a healing session ( distance Reiki or an in-person aromatherapy application called "Purpose")

Email info@juliebaumlisberger.com to start today. I'll send a link to the Strengths Assessment and we'll take it from there. You'll be one step closer to living your life in your strengths, instead of trying to be someone else. You are already enough!!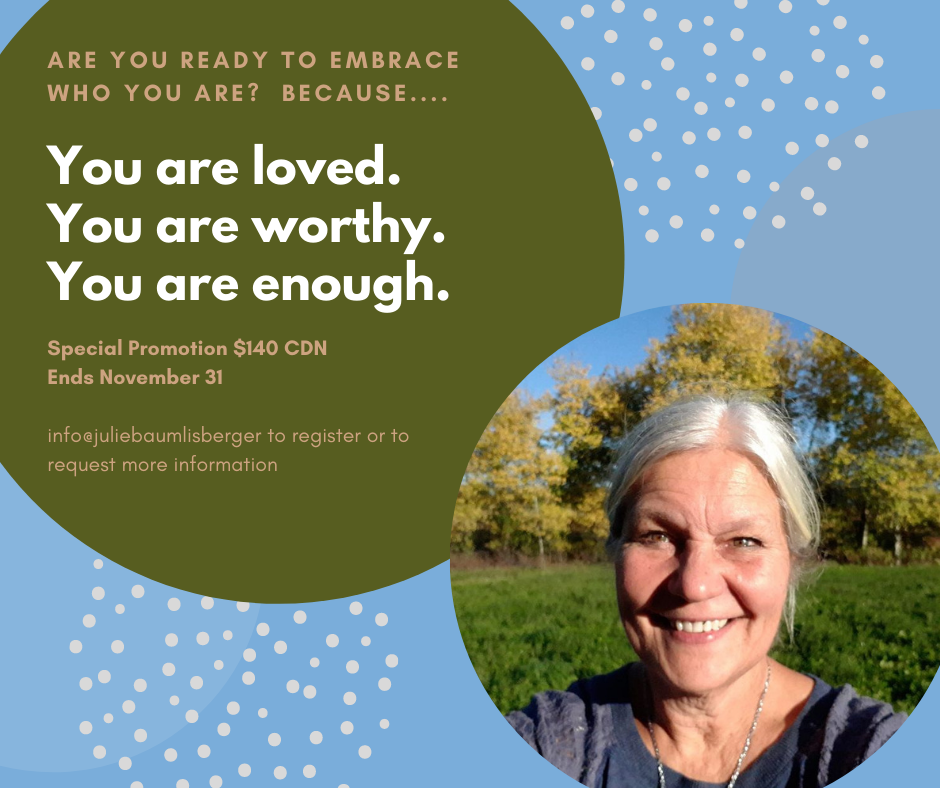 Join me every Wednesday night at 7 pm for a guided meditation and distance Reiki session.

Set your intention to release whatever no longer serves you and enjoy the healing energy of unconditional love.

* no experience necessary!